2021 Jeep Grand Wagoneer in Bossier City, LA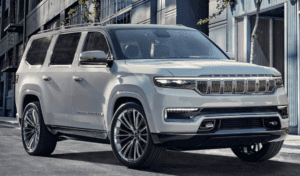 The Jeep Wagoneer has always pushed the envelope since it was introduced to the SUV market in the '80s. No other SUV up to that time offered as much off-road capability, beautiful design and passenger comfort and convenience. The all-new 2021 Jeep Grand Wagoneer is both a return to the nameplate's legacy of 4×4 capability and the introduction of a new sense of luxury, infused with the latest technology. That formidable, tough-as-nails performance and ultimate luxury is perfect for life in Bossier City. We at Hebert's Town and Country Chrysler Dodge Jeep Ram in Shreveport gladly introduce to you the all-new 2021 Jeep Grand Wagoneer, America's next favorite Jeep. 
CLICK HERE TO SIGN UP FOR UPDATES ABOUT THE 2021 JEEP GRAND WAGONEER
OFF-ROADER AT HEART: Don't let looks deceive you. This beautiful and elegant sport utility vehicle is a true off-roader at heart, thanks to the Quadra-Drive II 4×4 system alongside a hybrid-electric powertrain system for that true-blue Jeep capability. The traction system offers five drive modes to get you anywhere you want to go! There is much speculation about what kind of engine will be housed in the 2021 Jeep Grand Wagoneer. We have our ear to the ground and will definitely keep you posted as more details come available! 
FORTRESS: The Grand Wagoneer is built with body-on-frame construction much like the Ram 1500, but Jeep uses an independent rear suspension setup instead of riding on a solid rear axle for the utmost in comfort. This configuration offers better all-around control as the weight is under better management. Turns, bumps in the road, and uneven surfaces will have less effect on driving. The 2021 Jeep Grand Wagoneer is a moving fortress of the highest caliber, ready to tangle with Mother Nature. 
A SUPERIOR INTERIOR: The interior features of the 2021 Grand Wagoneer are something of a masterpiece. The cabin combines rich tones with modern functionality and elegant comfort, all accented with a nice mix of wood and leather. Don't worry about staying entertained, because the 2021 Grand Wagoneer goes big on entertainment and technology thanks to Jeep's newest version of its infotainment software, UConnect 5. You'll have access to multiple infotainment displays both front and back. Three-row seating is standard, offering a seven-passenger configuration with second-row captain's chairs. So sit back and enjoy the notoriety of driving the all-new Jeep Grand Wagoneer. 
The all-new 2021 Jeep Grand Wagoneer, like its predecessors, paves a new path for Jeep, offering innovative conveniences like three-row seating, impeccable craftsmanship, and luxury, and powerful capability through state-of-the-art powertrain options. Stay tuned for more and contact your pals at Hebert's Town and Country CDJR in Shreveport, across the river from Bossier City, for the latest information and updates about the all-new 2021 Jeep Grand Wagoneer.
If you just can't wait for the new Grand Wagoneer, come check out our available Jeep inventory.