The 2021 Jeep Grand Wagoneer in Shreveport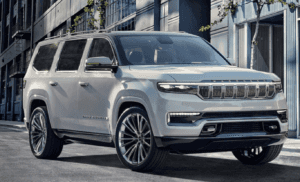 GIDDY-UP!! Get ready for the all-new 2021 Jeep Grand Wagoneer! The American icon comes back onto the auto scene with a modern style and as Jeep's premium three-row SUV.  Be assured the 2021 Jeep Grand Wagoneer proudly carries the classic combination of off-road capability and passenger comfort integrated with technology and modern convenience. We at Hebert's Town and Country Chrysler Dodge Jeep Ram in Shreveport will give you the low down on America's favorite Jeep, the all-new 2021 Jeep Grand Wagoneer.
CLICK HERE TO SIGN UP FOR UPDATES ABOUT THE 2021 JEEP GRAND WAGONEER
THE ORIGINAL WORK WAGON: Watch out Tahoes and Expeditions, the all-new 2021 Jeep Grand Wagoneer is designed not only for off-roaders but for all who want to experience the impressive Jeep lifestyle. You get three-row seating, enough room for everybody and anybody who wants a taste of fun living. Wish upon a star, because it will come true; the full-length single-pane glass roof will enhance your nighttime excursions with a full view of the cosmos. Keeping to what Jeep lovers desire, the bold front and rear backlit badging as well as customizable ambient lighting offers a very modern feel yet still keeping true to the Wagoneer style. All this metal and beauty neatly sits on 24-inch obsidian-finished aluminum wheels. Simply, the all-new 2021 Jeep Grand Wagoneer will blow your mind with appealing style and refinement.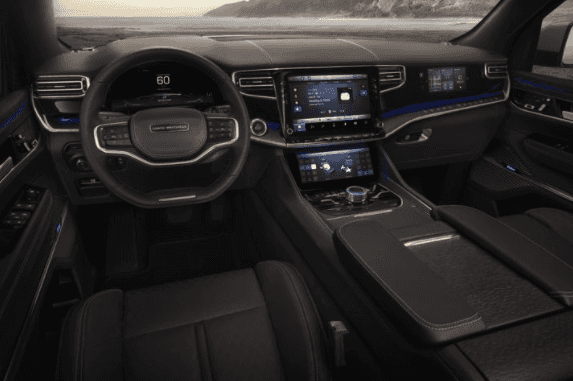 IT'S NOT JUST A JEEP, IT'S FUNCTIONAL TECH ART: The upcoming 2021 Jeep Grand Wagoneer is in a totally different hemisphere from its competition when it comes down to interior functionality and tech features that are offered. The Grand Wagoneer is a treasure trove of entertainment and convenience. There is a total of 75 inches of dazzling digital display which includes a 12.3-inch digital cluster accessible for the driver. There is a 12.1-inch center touchscreen above a 10.25-inch comfort display. You can easily swipe travel information from the 10.5-inch passenger touchscreen over to the driver's digital cluster. Plus, the second-row passengers have a center console with a 10.25-inch touchscreen with comfort controls, and entertainment screens are mounted on the back of the headrests with WiFi capability, plus lots more!
GET YOUR TOW ON: The Grand Wagoneer concept is engineered to maximize utility, delivering an impressive towing capacity with the Quadra-Drive II 4×4 system with an active two-speed transfer case along with the nifty hybrid electric vehicle powertrain system. The awe-inspiring Selec-Terrain Traction Management System offers five drive modes to get you in and out of the thick of it when needed. For this type of set-up, it's been speculated that the 2021 Jeep Grand Wagoneer may be equipped with the 3.6-liter V-6 eTorque as the base engine. We will definitely keep you updated as more details come available! 
It has been a long time coming for the return of the Wagoneer. The all-new 2021 Jeep Grand Wagoneer is definitely worth the wait with three-row seating and spectacular views from the glass roof. The Grand Wagoneer is designed to make the most with its reliable utility and towing capability. Stay tuned for more and contact your pals at Hebert's Town and Country CDJR in Shreveport for the latest information and updates about the all-new 2021 Jeep Grand Wagoneer.
If you just can't wait for the new Grand Wagoneer, come check out our available Jeep inventory.