BUY A 2020 JEEP CHEROKEE FOR SALE NEAR RUSTON, LA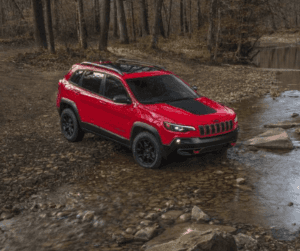 Do you want an SUV with a standard turbocharged engine, premium exterior design, and an interior that offers more comfort and convenience than any other on the market? Jeep is answering the call with the sleek and very capable 2020 Jeep Cherokee. Hebert's Town and Country Chrysler Dodge Jeep Ram of Shreveport near Ruston has the finest selection of 2020 Jeep Cherokee models to choose from. Come visit us and let our friendly sales teams put you behind the wheel of the hottest mid-size SUV, or you can shop for your 2020 Jeep Cherokee on our website.
BEST-IN-CLASS-CAPABILITY: The brand new 2020 Jeep Cherokee is the ideal SUV for on-road and off-road adventures. Contemporary and practical for the outdoorsy adventurer, the 2020 Jeep Cherokee features enhanced performance and fuel efficiency, all thanks to the advanced 2.0-liter four-cylinder turbocharged engine. You also have other powertrain options to choose from, including the 2.4-liter inline four-cylinder or 3.2-liter V6 engines. All three engines are matched up to the highly-efficient nine-speed automatic transmission, giving you even more capability to conquer those rough trails. With this combination, the 2020 Jeep Cherokee delivers the best-in-class fuel economy.
DEFINITION OF REFINEMENT: Along with the new 2020 Jeep Cherokee models, Jeep introduces two new hot exterior paint colors: Sangria and Spitfire Orange. For the Latitude, Latitude Plus, Limited and Overland models, the Advanced Safety Group package is available. The package includes Lane Departure Warning-Plus, Forward Collision Warning-Plus, and rain-sensing wipers. All models have a refined front hood design and equipped with top-of-the-line LED headlamps and daytime running lamps as well. The interior is spacious with increased rear cargo storage space along with redefined suspension packages for a lot smoother ride.
GET YOUR TECH ON: All 2020 Jeep Cherokee models feature the most advanced Uconnect touchscreen system, with user-friendly features and processing power. Each model is equipped with a high-resolution touchscreens displaying incredible graphics and with faster start-up time. This includes features the latest smartphone connectivity by Apple CarPlay and Android Auto. As for safety, the 2020 Jeep Cherokee offers over 80 available advanced safety and security features. You will be safe as kittens riding is this awesome ride.
If you are wanting contemporary style, ultimate engine power, and the latest in safety technology, the 2020 Jeep Cherokee is the SUV for you. From on-road to off-road, the 2020 Jeep Cherokee offers more than any other mid-size SUV on the market. So come visit us at Hebert's Town and Country Chrysler Dodge Jeep Ram of Shreveport, and let us help you find the ultimate SUV experience, or shop our full selection of 2020 Jeep Cherokee models at our website. Hope to see you soon!