Jeep Repair in Shreveport, Louisiana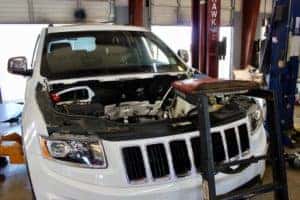 It's inevitable. Every Jeep will need repairs at some point. No matter if it's a few years old or could be considered a classic, some part will fail and need to be replaced or fixed. Whatever your Jeep repair need, we can fix it right here at Hebert's Town & Country Chrysler Dodge Jeep Ram in Shreveport, Louisiana.
When something does go wrong or breaks, our techs can diagnose the problem and repair any issue, big or small. Jobs like an alternator replacement, transfer case leak or wireless control module fault can all be performed by our Service Department technicians.
If your issue is an exterior one, our skilled body repair technicians can fix that too. Just bring your Jeep to our on-site Collision Center and Auto Body Shop for anything from small scratches and dents to full collision repair.
Minimize repairs with regular maintenance.
Regular maintenance is the best practice for ensuring your vehicle is in top running condition. Our technicians can perform oil changes and filter replacements, tire rotations, brake inspections, wheel alignments, tire wear and pressure checks, multipoint inspections and more at our Mopar Express Lane.
Another way to make sure your Jeep stays nice and clean is by occasionally bringing it to our Detail Center. A really good wash, inside and out, and a vacuum will do wonders for your vehicle and your peace of mind. We have varying levels of detailing, ranging from $20 to $200.
If you choose to wait for your Jeep repair or maintenance, we have a customer lounge with amenities like free wifi and beverages. Shuttle service is available if you need to run an errand while your vehicle is in the shop. If your repair needs to stay with us overnight or a few days, we offer loaner vehicles too.
If you need to schedule a maintenance or service appointment with us, just fill out our online scheduler form, which only takes a few minutes, or give us a call at (855) 712-7377. We're located at 1155 East Bert Kouns, Shreveport, LA 71105.
We can't wait to serve you and your Jeep at Hebert's Town & Country!