2019 Dodge Challenger Overview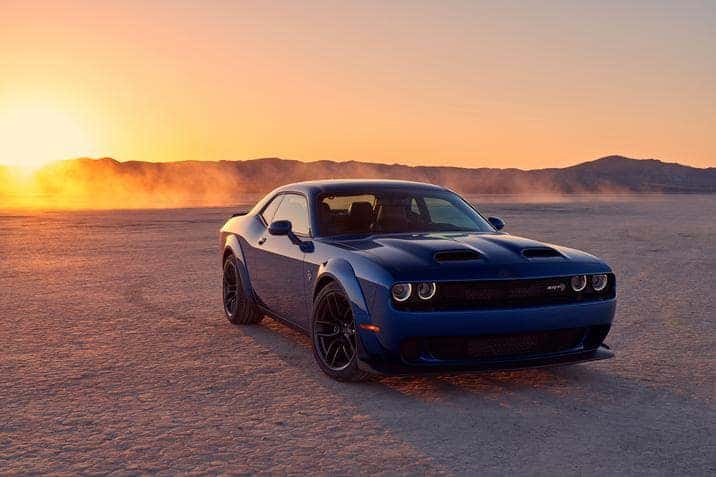 The Dodge Challenger is a classic muscle car. First introduced in 1970 and re-released in 2008, the Challenger is returning in 2019 with plenty of attitude. Dodge announced the new Challenger line a few weeks ago, and the fan-favorite muscle car is more powerful, attractive and affordable than ever before in 2019. With upgrades across the board, the Challenger is sure to be at an advantage over comparable vehicles when it hits assembly lines this fall.
POWERFUL
The 2019 Dodge Challenger is of the most powerful cars to-date, with high-output engines and performance across the board. The SRT, GT RWD and AWD models will feature Dodge's award-winning 305-horsepower Pentastar V6 engine. This engine gives an impressive amount of power to every model in the Challenger lineup. The Challenger R/T models make use of the 5.7-liter HEMI V8 engine which gives 375 horsepower and 410 lb.-ft. of torque. The R/T Scat Pack offers 485 horsepower and 475 lb.-ft. of torque.
The most powerful of all models is the Challenger SRT Hellcat Redeye. It's powered by a 6.2-liter HEMI V8 engine, delivering 797 horsepower and 707 lb.-ft. of torque. This model is the quickest, fastest and most powerful muscle car on the market.
All of the 2019 Challenger models have enough power to go from the pavement to the drag strip while putting total control in your hands.
ENTICING
The 2019 Dodge Challenger is one of the most attractive and enticing vehicles on the market. It has a design that distinguishes it from other muscle cars. The 2019 Challenger has an iconic style, not straying far from the classic Challengers many car enthusiasts recall. With a boxy yet aerodynamic design and a distinct grill, the 2019 Dodge Challenger is one of the most seductive cars on the market.
AFFORDABLE
Can a muscle car be easy on your wallet? This one can. The 2019 Dodge Challenger offers the lowest prices on the market for both V6 and V8 muscle cars. Challenger SRT is the most affordable V6 muscle car on the market, with a starting price of $27,295, and the Challenger R/T is the most affordable V8 muscle car starting at $34,100.
The 2019 Dodge Challenger is ready to lay claim as the leading muscle car this fall. Are you ready to join the team? Head over to Hebert's Town & Country Chrysler Dodge Jeep Ram later this year to test drive the most powerful muscle car on the market.