Celebrate Louisiana culture with the Red River Revel Festival!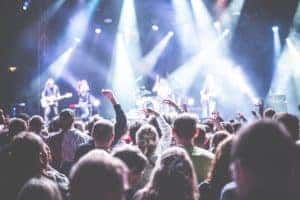 Summer is nearly over and it's time to get out of the air conditioning and out around town. Shreveport is home to plenty of events and a seemingly endless pool of festivals Who doesn't love a good festival? Food, music, art and good company keep the good times rolling and, more often than not, we just can't get enough of them. 
Originally founded in 1976, the Red River Revel Festival is a celebration of Louisiana tradition, promising to deliver an authentic experience each year. This nine-day event is the perfect excuse to get out of the house and dive into festivities with friends and family!
Running all nine-days, the musical lineup of the Red River Revel is going to be a strong showing this year. Mississippi blues-rockers Bishop Gunn are kicking off the festivities Saturday, September 28 with a nighttime concert. Featuring nearly every genre you can think of, the festival headlines nationally acclaimed artists like Colony House, country-music star Chase Bryant and even a live album release party for The Seratones on October 5. For a comprehensive schedule of the musical acts, check out the Red River Revel Festival's website. 
Artists aren't being left out of the festival! A visual arts section of the festival will allow select artists to showcase their artwork and love for Louisiana culture. The visual arts section will feature a collection of artwork being displayed all nine-days of the festival and another section that will highlight artists for half of the festival and others during the other half. Check out the artists appearing at the festival by heading to their website page. 
Whether you're craving barbecue, Cajun food, fair food or a boatload of sweets, the Red River Revel has it all. Fan favorites range from the wildly delicious Kaleidoscopadilla, provided by the Zeta Tau Alpha Alumnae, to the Deep Fried Mac and Cheese Balls so tantalizingly placed in front of hungry attendees by the fine folks at Bracks Chapel. Take your salivary glands on a wild ride by perusing the festival's food menu.
There's no denying it: the 2019 Red River Revel Festival is going to be one for the books. Looking for a ride to get you and your friends to exciting Shreveport events like the Red River Revel festival? The 2020 Jeep Cherokee sports seating for five, durable Jeep performance and the bold design that you know and love. Interested in taking one for a test drive? You can fill out our contact form, give us a call or use the map on the right to track down directions and visit us in person! We hope to see you at Red River Revel this year!