Culture and Creativity Collide: The 2019 Art and Crabs Fest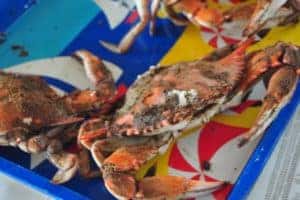 Art and crabs. Two seemingly opposite things, yet when you place them into the Louisiana sphere they just make sense. Chefs have perfected their crab dishes over the years, forming them, slowly but surely, into works of art. The Arts and Humanities Council of Lake Charles is putting on their annual culinary event the Arts and Crabs Fest next Saturday, August 17.
Be sure to bring your appetites to the Arts and Crabs Fest. Top local chefs are each bringing a signature dish that highlights the local flavor and their culinary style. While savoring the mouthwatering crab dishes, attendees will have the opportunity to partake in complimentary Louisiana craft brew samples with each dish. 
As an attendee of the 2019 Art and Crabs Fest, you'll have the chance to participate in the "People's Choice" popular vote. An official judging panel will have the final say in the "Best Crab Dish" award of the night. 
Not interested in sampling the crab dishes? Allergic to crabs? No need to fear. The 2019 Arts and Crabs Fest will have an extensive collection of Southwestern Louisiana artwork for you to peruse and appreciate. Live music will be performed throughout the event, as well as live art demonstrations. There's a little something for everyone at the Arts and Crabs Fest!
Any and all funds raised at the 2019 Arts and Crabs Fest will be poured back into the Southwestern Louisiana Arts Community so the Arts Council can hold year-round activities. The event has been named one of the "Top 20 Events in the Southeast" by the Southeast Tourism Society for the last six years in a row. 
You don't want to miss out on this exciting and mouthwatering event! Looking for a new ride to get you down to Lake Charles for the Arts and Crabs Fest? Why not consider the 2019 Jeep Cherokee? Seating for five, a wide array of safety features and legendary Jeep design and performance make the 2019 Cherokee a must-have. 
We'd love to have you drop by Hebert's Town and Country Chrysler Dodge Jeep Ram in Shreveport for a test drive, today! You can give us a call, fill out our contact form or use the map located on the right and pay us a visit in person. We hope to see you soon!
Browse our selection of the 2019 Jeep Cherokee
For more information on the Arts and Crabs Fest or to purchase tickets, check out their page on EventBrite.