Customize Your Jeep Renegade with Exterior Graphics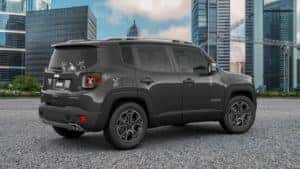 The Jeep brand is, at its core, about a few things: the love of the American classic and history of the Wrangler, off-roading, community and personalization. One of the reasons Jeep vehicles sell like hotcakes is because they're so easy to personalize. Just switch out the lighting, swap out your mirrors for a different color or add a few other simple accessories and boom, you've created a customer Jeep that's unlike any other on the road.
The Wrangler is the most commonly customized Jeep vehicle, but it's not the only Jeep that likes an exterior graphic. Now it's even easier to tailor your 2018 Jeep Renegade to your personality.
If your small SUV is a little plain for your liking, Jeep now offers an easy way to customize and buy exterior decals for your Renegade.
First, click the link above and hit the yellow "Get Started" button. You'll pick your 2019 Renegade trim to make sure the graphic you pick is the perfect fit.
Next, you'll choose from decals for your hood or decals for the side, rear and top of your Renegade. You can personalize your graphics by choosing from three different sizes and nine different colors and can also see how your graphic will look on your vehicle's color too.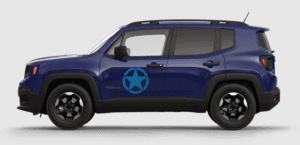 Once you've got the perfect graphic designed, save it and head to the online shop to check out.
When your decal has arrived, there are a few steps to take to make sure you apply it properly to the exterior of your Renegade. Here they are:
1. Clean the area of your Renegade the decal will be applied to with warm water and dry completely.
2. Position the decal where you want it, without removing the liner, and mark where you want it with masking tape.
3. Flip over the decal and slowly peel the liner off.
4. Carefully and slowly place the decal on your vehicle.
5. Squeegie the decal with overlapping strokes to remove any air bubbles that form.
6. Gently peel the protective layer off the decal and the masking tape of your Renegade.
You're done!
We can always help you with ordering accessories and decals for your Renegade or any other Jeep too. Fill out our parts order form or give us a call at (318) 221-9000.