EXPERIENCE THE ALL-NEW 2020 JEEP GLADIATOR
The all-new 2020 Jeep Gladiator possesses a distinguished design all of its own that is immediately recognizable, yet it holds true the heritage of Jeep as a capable midsize truck. With a combination of rugged utility, authentic Jeep design, and open-air freedom, the new Jeep Gladiator has both functionality and versatility. Come visit your friends at Hebert's Town and Country and experience the next level of Jeep innovation in the new 2020 Jeep Gladiator.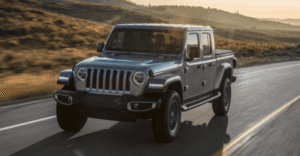 CLICK HERE TO SHOP OUR SELECTION OF JEEP VEHICLES
CONTEMPORARY, YET TRADITIONAL: The all-new Jeep Gladiator features incredible design, with the signature body features that are hallmarks of Jeep's traditional style. The legendary seven-slot grille gets widened grille slots for additional air intake to assist with cooling, allowing for increased towing capacity. The top of the keystone-shaped grille is altered a bit to enhance aerodynamics and reduce drag. Gladiator models are equipped with LED daytime running lights, while the tailgate is capable of stopping in three positions, while cargo is easily secured with a power-locking tailgate. Just goes to show, the 2020 Jeep Gladiator is built for utility.
UNMATCHED CAPABILITIES:  The all-new 2020 Jeep Gladiator delivers utmost capability with best-in-class towing and 4×4 payload capacity producing over-the-top on-road and off-road driving dynamics and passenger safety thanks to advanced, fuel-efficient powertrains. The stupendous off-road capability of the 2020 Gladiator comes from both the Command-Trac and Rock-Trac 4×4 systems, the latter featuring third-generation Dana 44 axles. Simply put, the new 2020 Jeep Gladiator is the next generation of innovative capability.
POWER AND TORQUE: The 2020 Jeep Gladiator's popular V6 engine's low-range torque delivers the power you need when out and about or during demanding off-road conditions. Also available is the powerhouse 3.0-liter EcoDiesel V6 engine, cranking out 260 horsepower and a whopping 442 lb.-ft. of torque, backed by eight-speed automatic transmission designed to handle the increased torque output. With this combination of power, the all-new 2020 Jeep Gladiator is the boss on city streets or backwoods trails!
The all-new 2020 Jeep Gladiator is a distinctive vehicle, and not just because of its unique design. The versatility and capability is just as outstanding, while the design of the 2020 Jeep Gladiator strongly reflects the long tradition and heritage that made Jeep a legend.  Come to Hebert's Town & Country Chrysler Dodge Jeep Ram of Shreveport. Test-drive the latest in Jeep innovation and evolution: the 2020 Jeep Gladiator! Hope to see you soon.