FCA's Response To The COVID-19 Pandemic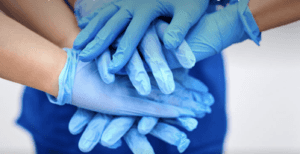 In the darkest hour of World War II, Dodge and Chrysler answered the call and came to America's aid, turning their massive manufacturing capacity toward building engines, tanks, trucks and planes to beat back the scourge of fascism. The Jeep brand was literally born of that massive effort to keep America's armies equipped, fighting and strong.

Now, the world faces a new enemy: Covid-19. Chrysler, Dodge, Jeep and Ram's parent company Fiat Chrysler America (FCA) is answering the call again, partnering with other agencies and community advocates to feed the hungry and make crucially-needed Personal Protective Equipment (PPE) for America's heroes in this fight, including police, firefighters, doctors, nurses and other frontline health care workers.

In cooperation with the United Auto Workers Union, FCA recently invested millions plus technical, logistical and manufacturing resources to start building medical equipment, ventilators and PPE in FCA factories around the globe. That includes drawing on experience from the company's engineering and logistics team in hard-hit Italy, which worked with a medical equipment manufacturer there to produce ventilators that cost less and can be built more quickly.

"In this time of need, we've focused our resources on those actions we can implement quickly and that will have the greatest impact, as we did in Italy as soon as the emergency started," said FCA CEO Mike Manley. 

FCA has also massively expanded its longstanding partnership with No Kid Hungry, an organization that FCA has been helping feed hungry children since 2018. Founded in 2010, No Kid Hungry has provided over 1 billion meals to children in need. With children off from school and parents potentially losing income due to the coronavirus lockdown, the need for meals to fill small bellies is more desperate than ever. To answer that need, FCA announced that they would provide 1 million free meals to school-age children in communities near FCA production plants in Illinois, Indiana, Michigan and Ohio.

In addition to those meals for children, FCA also recently announced a commitment to providing meals for children with every family-friendly 2020 Chrysler Pacifica sold.

"As a brand that is focused on making life easier for families, we at Chrysler want to continue to help those in need and make it easier for families to help others," said Tim Kuniskis with FCA. "So with each Pacifica sold, we'll help No Kid Hungry provide up to 500 meals to kids in need with the goal of providing up to 10 million meals."

To help make buying a 2020 Pacifica even more attractive to families, FCA is currently offering Pacifica Family Discount Pricing that can knock thousands off the purchase price of a new Pacifica, plus zero-percent financing for 60 months, and no payments for the first 90 days on all gasoline-powered 2020 Pacifica models. While the Pacifica Hybrid is excluded from the 90 days with no payments offer, every Pacifica Hybrid purchased is eligible for a $7,500 tax credit from the federal government.

The American spirit and know-how being brought to bear by FCA during the coronavirus pandemic is one more reason why Hebert's Town and Country is proud to sell quality Chrysler, Dodge, Jeep and Ram vehicles. So come share our pride. Give us a call today to set up a come-to-you test drive of a new vehicle, or shop our full selection online at our website right now. We at Hebert's Town and Country look forward to being a community partner you can depend on, now and in the future.