Four fun movies and TV shows for gearheads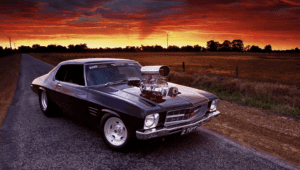 When the summer heat gets too much, it's a great time to head indoors, pop some buttery popcorn, fix your favorite ice-cold beverage, and watch a thrilling car movie. In the spirit of fun and high-speed entertainment, let's show appreciation for cool cars that make a movie an exciting journey. Below, check out Hebert's Town and Country Chrysler Dodge Jeep Ram's list of four of our favorite movies and TV shows featuring hot cars for some cool entertainment while you enjoy the AC in your favorite spot. Sit back and enjoy the ride! And if you need a great vehicle to help you burn up the road, come see us, or check out our full selection online right now. 
FORD v FERRARI (2019): Let's start our list with a great movie about incredible cars and the even more incredible people who created them: Ford v Ferrari. The film shares the real-life story of the partnership/friendship between legendary car designer Carroll Shelby (Matt Damon), and bold British race car driver Ken Miles (Christian Bale) as they take on the corporate attitudes at Ford Motor Company in order to design a concept race car for Ford that will beat out Ferrari at the 24 Hours of Le Mans road race in France in 1966. The result is a great story about two racing legends, with enough heart and octane to go around. 
FAST FIVE (2011): The fifth installment of the Fast & Furious franchise stars the usual line-up including Vin Diesel, the late Paul Walker, and other familiar faces. Even though the series has veered from street racing that was the focus of previous films in the series, it is still action-packed with a heist plot involving awesome cars, with the street-racing crew we've come to love attempting to steal $100 million dollars from a crooked businessman while being pursued by the Feds.
INSIDE WEST COAST CUSTOMS (2011-Present): If you are into vehicle customization and reality TV, then you must catch an episode of Inside West Coast Customs, which is a reality television show focused on car customization on the Discovery Channel. The series mostly revolves around Owner/CEO Ryan Friedlinghaus and his crew at West Coast Customs as they transform ordinary, factory-appearing cars, trucks, and SUVs into extraordinary, fully-customized vehicles. To up the fun, the show has featured cameo appearances by celebrities like Shaquille O'Neal, Mark Wahlberg, and Conan O'Brien. The ninth season of Inside West Coast Customs is expected to premiere in July 2020.
THE DUKES OF HAZZARD (1979-1985): Before the 2005 Johnny Knoxville remake, there was the popular late 70s TV series. The original version of The Dukes of Hazzard is an action-comedy series that aired on CBS from January 26, 1979, to February 8, 1985, for a total of 147 episodes. The plot follows the adventures of Bo, Luke, and Daisy Duke, country cousins who live on a family farm in fictional Hazzard County, Georgia, and drive around in a customized 1969 Dodge Charger named "The General Lee." From eluding county sheriffs to stunt jumping through burning barns and shooting explosive arrows with compound bows, every episode is a power-packed adventure. 
There are a lot of great, exciting car movies and television shows to enjoy this summer featuring all kinds of cool rides and street-tearing adventures. And if you feel the need for speed, durability, and versatility, contact us at Hebert's Town and Country Chrysler Dodge Jeep Ram in Shreveport. We have one of the best selections of high-performance cars, including the incredible 2020 Dodge Challenger. Test-drive your favorite vehicle and begin your own adventure!