Getting More Power out of your Hemi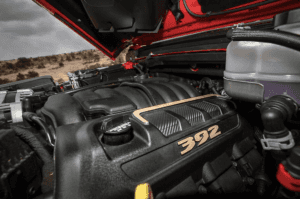 The Hemi V8 engine is an iconic motor in the Chrysler Dodge and Jeep lineup. Here at Hebert's Town and Country, we have several vehicles that have the Hemi power plant installed. If stock horsepower isn't enough for you, we offer Mopar accessories that make your Hemi engine perform at its maximum potential.
Let's start with some of the Hemi engines offered on our vehicles. You can get a 5.7-liter Hemi in several of our SUVs and trucks. This engine is very reliable and stout. If you're looking for more horsepower without breaking the bank, the 392 cubic-inch 6.4-liter Hemi V8 is a perfect choice. This engine comes in several SRT models, Scat Pack, and the all-new Wrangler Rubicon 392. If you want all-out performance, the 6.2-liter supercharged Hemi in the Hellcat models produces over 700 horsepower and is famed for making some of the most powerful cars on the road.
If you want your engine to breathe a little better, consider adding a cold air intake or catback exhaust. Both of these parts are available as Mopar extras from our parts department. The cold air intake dressed up your engine bay with stainless steel piping and an exposed filter. You'll hear more induction noise and possibly increase your gas mileage as long as you don't keep your foot on the gas from all the cool noises your vehicle makes. The catback exhaust finishes the rear end with updated exhaust tips and makes your Hemi growl with powerful tones.
You can add a performance flash tune after adding these parts so your engine is more accustomed to these parts but be careful because it could void your warranty. Tuning your engine optimizes the aftermarket parts that are added to the Hemi engine.
Finally, make sure your Hemi engine is healthy with a tune-up from our service department. Don't wait too long between oil changes and make sure you have fresh fluids running through the engine when you decide to step on the gas and leave everyone else in your dust. 
Ready to add more power to your Hemi V8 engine? Come see us at Hebert's Town and Country today to get going!