HEBERT'S TOWN AND COUNTRY PROUDLY SUPPORTS OF THE STATE FAIR OF LOUISIANA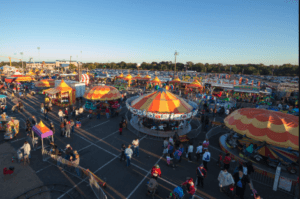 It is definitely that time of year again: corn dogs, mind-blowing carnival rides, and awesome festivities. Yes, it is time for the State Fair of Louisiana! It is a great time for kids and family to have fun and enjoy great food. Hebert's Town and Country Chrysler Dodge Jeep Ram of Shreveport is a very proud supporters of The State Fair Of Louisiana and we're eager to partner-up with our great state to provide safe and memorable entertainment to our beloved community.  Seen below is a description of the vast entertainment we have in store at the state fair this year. From cheerleading competitions to livestock showings, titillating carnival rides to our favorite state-fair-foods, we have it all at the State Fair of Louisiana!
You can't start talking about the state fair without mentioning the awesome rides. Every year, the State Fair of Louisiana never fails with providing the most thrilling carnival rides, from the tilt-a-whirl to the lovable ferris wheel, motorcycle merry-go-rounds to the gigantic slides for the older elementary school kids. There are also the always-fun games to test your skills, like the Ring-Toss and Bean-Bag throws, where you get to win a lovable stuffed animal or even a goldfish. Every year, there's loads of fun for kids and kids at heart.
At the State Fair of Louisiana, there is a vast selection of activities to do and see for the whole family. For starters, there is the 2019 Livestock Show. This is an excellent opportunity for the children to learn about the different kinds of livestock, with nearly every variety of farm animal exhibited and judged on certain breed traits as specified by their respective breed standard. Species of livestock on display this year include pigs, cattle, sheep, goats, horses, llamas and alpacas. Not only that, there is the thrilling LRCA Finals Rodeo on October 31, November 1st and 2nd. See the live action of bull-riding, calf-roping and much much more. It's a great way to spend time with the kids and a great learning opportunity for them.
For live entertainment, the State Fair of Louisiana never falls short. This year there are excellent live shows to attend, including live, action-packed attractions like Dallas The Fire Guy, who is returning this year to display his awesome fire juggling and fire breathing skills.  Also, for serious adventure, Timberview Helicopters will be carrying passengers high into the clouds aboard a sky-scraping "whirlybird," for aerial tours above the State Fair of Louisiana. There is also the awesome Jetpack Flying Water Circus, featuring loads of fun and excitement. Do not miss out on  Nick The Escape Artist as he attempts to break out of straight jackets and chains in record time, then shows his stuff as a contortionist.
A tradition of family fun and exciting adventure, the State Fair of Louisiana brings live attractions and thrilling carnival rides every year. We at Hebert's Town and Country Chrysler Dodge Jeep Ram are very proud to be a sponsor of this wonderful tradition. Want to celebrate in style and load up the kids and family for a trip to the fair in a new vehicle? Come visit us at Hebert's Town and Country Chrysler Dodge Jeep Ram, and drive off to the state fair in your own exciting ride! Hope to see you soon!