Jeep 4xe: Electric Tips and Tricks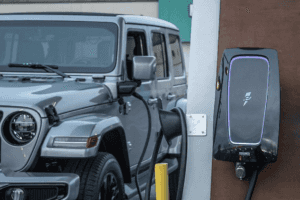 The future looks bright with the all-new 2021 Jeep Wrangler 4xe! For the first time ever, the iconic Jeep Wrangler is being offered with an electric motor in conjunction with a gasoline engine to forge a new path for the Jeep brand. 
Click here to check out our new Wrangler inventory!
Any new technology can make someone nervous if they aren't familiar with how it operates. Jeep aimed to make the 4xe line as easy as possible to operate. Many customers purchasing these partial electric models are the first ones to dip their toes into vehicular electrification so we're here to help!
There are several ways to drive the new 4xe. You can use the battery and 2.0-liter turbocharged four-cylinder gasoline motor together in hybrid mode. Hybrid is the default mode and it combines torque from both the gas engine and the electric motors. This combination provides maximum horsepower, instant torque, and the best acceleration. Electric power is consumed first. You can rocket from 0-60 mph in 6 seconds and have a combined cruising range of 370 miles. 
When the battery has more than a 1 percent charge, it can run in Electric Mode. This allows for nearly zero tailpipe emissions up to highway speeds. The vehicle can run in this mode for up to 21 miles. You do want to note that when the climate outside is cold, your battery will be less efficient and you'll get less range with your battery-only modes. 
Lastly, eSave Mode prioritizes the gas engine. This saves the battery charge for later use. When power demand is low, the engine shuts off. It can also be reconfigured to increase the battery charge as well.
Regenerative braking is a huge plus for electric vehicles. Not only does it save your brake pads but it also provides you with extra range. This feature allows the battery to be charged when decelerating and braking. The Max Regeneration feature remaps the accelerator pedal to command more aggressive regen at low pedal positions. It allows you to slow the vehicle down without the brake pedal, but a complete stop always requires the brake pedal. It also stays selected until you turn it off if you prefer to drive it like a normal Wrangler.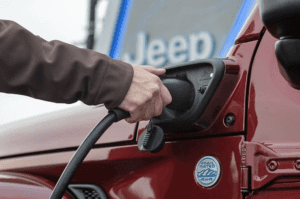 It's very simple to charge the Wrangler 4xe. You can plug it just like your cell phone when the battery gets low. The battery can be fully recharged in approximately 2 hours using an available Level 2 charger (240-volt), or 12 hours using the included Level 1 charger (120-volt). With the ability to charge at home and work, you can enjoy the benefits of fully electric daily commutes.
Are you ready to drive the Wrangler of the future? The 2021 Wrangler 4xe is ready for all the new electric adventures you can throw at it. Contact us for any specifics you may have about the 4xe lineup!