Jeep Achieves "Cult Brand" Status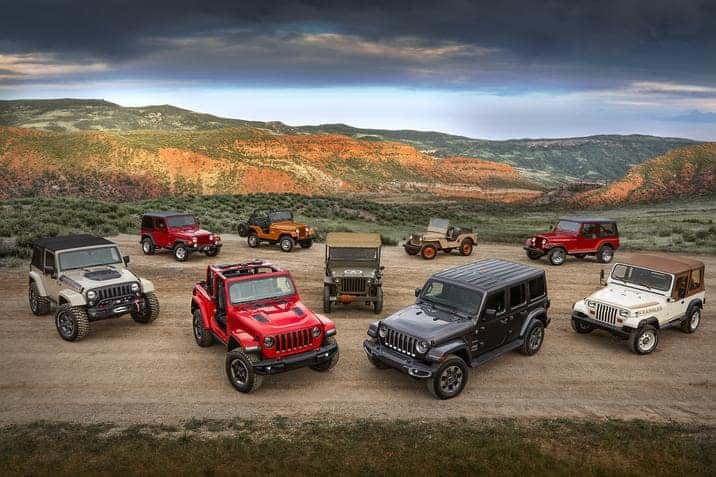 If you know anything about Jeep drivers, it's that they are bonkers for their Wranglers, Grand Cherokees and every other Jeep vehicle on the market. There's no other car brand that inspires such loyalty or passion.
When it comes to the collective car culture, Jeep has been a cult brand for a looooong time, and now it's official. The Jeep brand was just recognized as a "Cult Brand" honoree by The Gathering.
"Having the Jeep brand acknowledged as a Cult Brand Honoree, just as the all-new 2018 Jeep Wrangler and new 2019 Jeep Cherokee begin to arrive in dealerships, is a testament to the people who, since 1941, have dedicated themselves to building the world's most capable SUVs with off-road capability that is second to none," Head of Jeep Brand Mike Manley said in a FCA press release. "The global Jeep community is like no other. There is no other automotive brand that is so instantly recognizable and woven into the history of its home nation yet recognized around the world, and one that is protected with such a passion by its owners, fans and followers."
Only Car Brand Recognized
Jeep is the only car brand out of the eight brands and their leaders to be honored this year. It's also the only car brand to ever be recognized by the group.
"Other automotive brands have been nominated over the years, but it's so fitting that Jeep is the first Cult Brand Honoree," The Gathering Co-Founder Chris Kneeland said. "It's an iconic brand with vehicles that stand apart from any other in the automotive category. Their marketing, product innovation and customer engagement are best-of-breed and represent exactly how cult brands foster internal and external brand engagement."
The Gathering is, according to their website, an "annual coming together of the world's most coveted brands to share secrets and learn from the courageous leaders and trailblazers who are reaping the benefits of unbreakable brand affinity and loyalty."
The Gathering has been occurring since 2014 and is one of several yearly events put on by The Society of Cult Brands.
The other seven brands honored this year are: Snickers, Gatorade, Vans, Jack Daniel's Tennessee Whiskey, Beats by Dr. Dre, charity: water and PlayStation.