Jeep Prepares for New Jeep Truck After Building Last Wrangler JK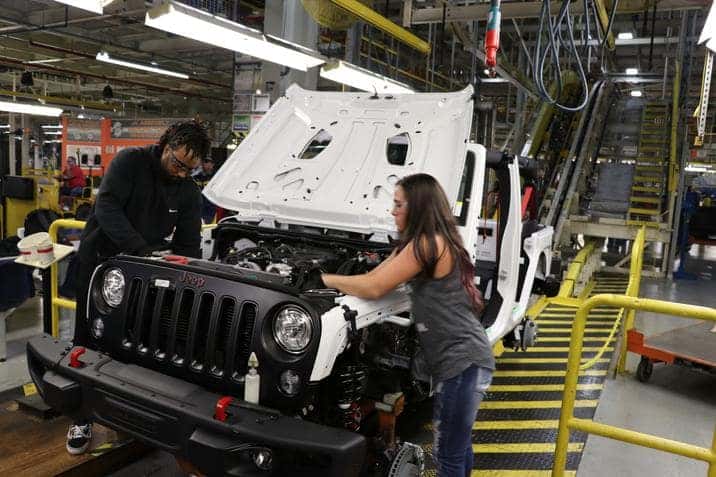 Jeep built its last Wrangler JK on April 27, 2017 at the FCA U.S. Toledo Supplier Park in Toledo, Ohio. This facility built 2.1 million of the Wrangler JK — body style from 2006 to 2018 — in the last 12 years, but will soon begin building the all-new Jeep truck.
The new Jeep truck will be based on the Wrangler JL platform. The truck is set to launch sometime in the first half of 2019.
The last Wrangler JK produced is the white 2018 Jeep Wrangler Rubicon Unlimited. Employees marked the milestone by taking photos with this SUV.
"This workforce has been working practically non-stop for the past several years to fulfill the dreams of Jeep enthusiasts around the world who want to go where only a Wrangler can take them," Toledo Assembly Complex Manager Chuck Padden said in a press release. "We take great pride in the role we have played in the history of this vehicle and the impact it has made in the Toledo community. We look forward to bringing that same commitment to the all-new Jeep truck."
The next generation of the Wrangler, which is the JL that is already making its way to dealerships throughout the U.S., will be built at the north side of the Toledo Assembly Complex, so the new Jeep truck can be manufactured at the Toledo Supplier Park. This is part of a $4.5 billion industrialization plan, which includes a retooling of facilities and adding 25,000 new jobs, to realign Fiat Chrysler Automobiles's U.S. manufacturing base to expand the Jeep and Ram brands.
Plans for the new Jeep pickup truck, along with a new Wagoneer and Grand Wagoneer, were officially announced in January of 2017 and we haven't heard much official news since. The last Jeep pickup truck produced was the Comanche in 1992, which was based on the Cherokee XJ.