Jeep Releases 6 Gladiator Concepts for Annual Easter Jeep Safari
The 2019 Easter Jeep Safari is upon us and to celebrate the annual event, Jeep has yet again released a handful of concept vehicles. This year, there are six and they're all based on the upcoming 2020 Gladiator and Jeep trucks of the past.
This year's event marks the 53rd safari in Moab, Utah and will take place April 13-21. Jeep enthusiasts from all over the world travel to Moab to trail ride on some of the most picturesque and tough terrain in the world for a week and a half.
"The Moab Easter Jeep Safari provides the perfect venue to interact with and gather feedback from our most loyal and passionate customers — the diehard off-road enthusiasts who attend the event each year," FCA North America Jeep Brand Head Tim Kuniskis said. "This year's safari will mark the debut of the highly anticipated all-new Jeep Gladiator on Moab's scenic and demanding trails. To celebrate, we are showcasing six fun and ultra-capable new truck-based Jeep concept vehicles that are certain to turn heads and delight the crowd."
This year's concept vehicles highlight not only the Gladiator but the vast array of Jeep Performance Parts.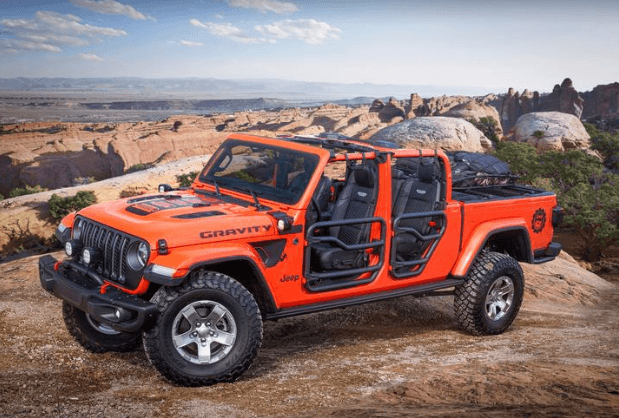 Jeep Gladiator Gravity
As you'd expect with a name like Gravity, this concept is all about defying it. Its ability to climb rocks thanks to its two-inch lift kit, 17-inch gear wheels, 35-inch tires, thick rock rails and more make this Punk'N Metallic Orange Gladiator one we'll definitely see recreated by Jeep enthusiasts.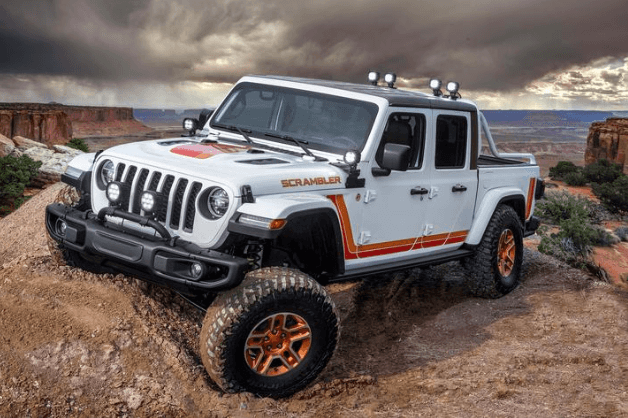 Jeep JT Scrambler
This concept is a cool throwback to the color palette and graphics of the CJ Scrambler, which is a vehicle that's now instantly recognizable to serious Jeepers. It has tons of Mopar and Jeep Performance Parts for a cool modern twist on such an iconic vehicle.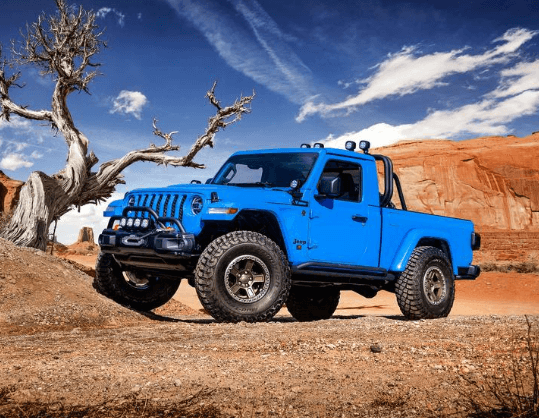 Jeep J6
The J6 is a striking vibrant blue that takes its styling from the 1978 Jeep Honcho. It's based on the Rubicon but customized with two doors and a six-foot bed — that's 12 inches longer than the standard Gladiator bed — for maximizing cargo.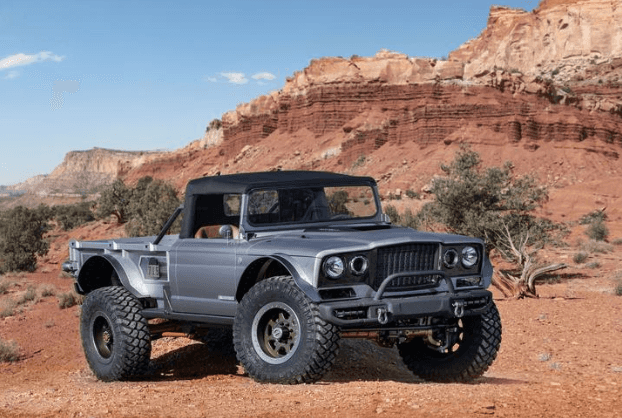 Jeep Five-Quarter
There's always a "Resto-Mod" at the Easter Jeep Safari and this year it's an M-715 Five Quarter, which seamlessly blends modern with vintage Jeep as it's a Gladiator-based military vehicle. The name comes as a nod to past Jeep trucks that were one-and-a-quarter tons or "five quarters."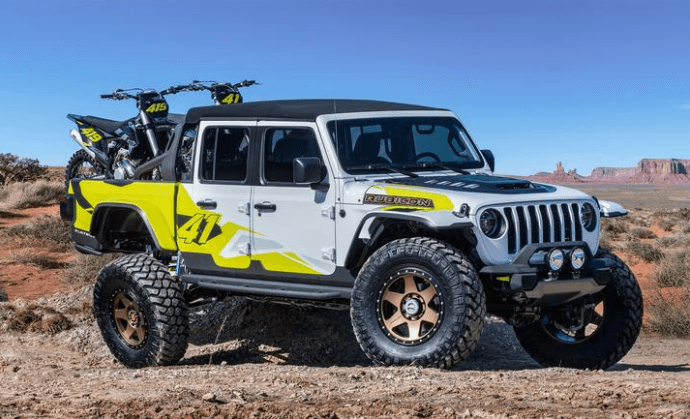 Jeep Flatbill
The Flatbill is designed for those who live the desert lifestyle and is inspired by the world of Motocross. It can easily haul dirt bikes, four-wheelers and other off-roading toys as the bed has no tailgate and dedicated slide-out wheel ramps.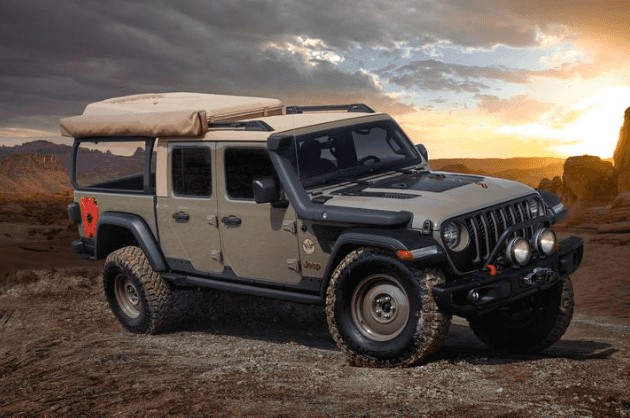 Jeep Way-out
The Way-out is an overland concept that uses the Gladiator's best-in-class payload to showcase a custom large canopy and full rooftop tent. A custom bed rack with integrated ladder holds the tent, which can easily sleep two.
The body color is Gator Green, which will be available on the 2020 Gladiator.