Jeep Takes A Greener Step, Reduces Emissions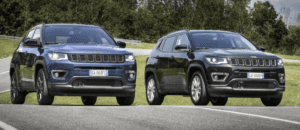 Jeep, along with FCA, is committed to the continuous endeavor of monitoring and reducing the environmental impact of its vehicles. Many initiatives have been established and steps have been taken toward that goal. Jeep has redesigned engines to operate cleaner and created Jeep hybrid models like the exclusive 2020 Jeep Renegade 4xe model for mass production. The future has arrived, and Jeep is taking the first steps toward producing greener vehicles without compromising on the quality, power, and legendary performance we've all come to expect from the car brand.
GLOBAL WARMING POTENTIAL ANALYSIS: Global Warming Potential Analysis is a mouthful to say! Otherwise known as "GWP," it's a scientific, industry-used calculation of a vehicle's improvement in factors equating to the overall reduction in emissions of the vehicle. This year's analysis includes the current-generation Jeep Wrangler, which was compared with the previous-generation vehicle. The latest Wrangler's overall GWP is 15 percent lower than that of its predecessor. This data establishes that each new Wrangler Unlimited has the potential to reduce emissions equivalent to the amount of CO2 produced from burning 7.7 tons of coal. Overall, Jeep is taking a greener direction with its product strategy, helping its vehicles run cleaner. Awesome!  
JEEP HYBRIDS: Jeep is taking another green path by breaking down barriers with the new Jeep Renegade and Jeep Compass 4xe vehicles. The exclusive "First Edition" 4xe models are a no-compromise hybrid solution that integrates the unmatched technical layout of each Jeep SUV, providing absolute freedom! Their capability is unhindered through some of the most advanced technology, producing enhanced performance up to 240 horsepower and low environmental impact. Of course, a 4×4 drivetrain is always available. The "First Edition" models will be offered in two different configurations based on the top trims: Urban, which is based on the S trim, and Off-road, based on the Trailhawk trim. This makes for an exciting future not only for Jeep but for the whole SUV market. Just imagine the possibilities!
The Jeep brand is making strides towards a greener future for its customers. Utilizing state-of-the-art technology and forging new growth of its already legendary line of SUVs, Jeep is bound to be a mover and shaker when it comes to creating a cleaner and more viable environment for the future generation of Jeep lovers. Does this inspire you to discover what Jeep has to offer? Don't hesitate! Contact your friends at Hebert's Town and Country and test drive a Jeep and explore the possibilities! Hope to hear from you soon!