Last 2018 Dodge Demon Drives Off Assembly Line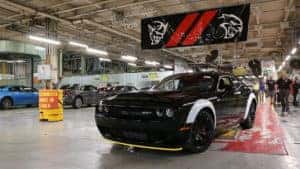 If you missed out on pre-ordering a 2018 Dodge Challenger SRT Demon, you've got one more chance. The last Demon rolled off the assembly line Wednesday, May 30 at the FCA US Brampton Assembly Plant in Ontario, Canada.
This last Dodge Demon will be auctioned off, along with the last 2017 Dodge Viper as a pair, as "The Ultimate Last Chance" at the Barrett-Jackson Northeast Auction in June. Dodge has long partnered with the auction house to sell unique vehicles as well as raise money for charitable foundations.
Upon leaving the plant, the last 2018 Dodge Demon will head to an upfit center for the final assembly stage. The Demon will add an exclusive hand-painted Viper Red paint job, 18-inch Demon drag radial tires, 18-inch aluminum wheels, Demon vehicle badging and one-of-a-kind VIN instrument panel badging.
The Demon was brought back in 2018 for a limited run of 3,300 units.
The highest bidder at the Barrett-Jackson Northeast Auction, which takes place June 20-23 at the Mohegan Sun Resort in Uncasville, Connecticut, will go home with a combined 1,485 horsepower between the two vehicles. The Dodge Demon is the industry's first and only street-legal production drag car and it reaches 840 horsepower. It has the most powerful V-8 engine in production and more than 20 drag-performance features.
The 2017 Viper has an 8.4L V-10 engine that gives 645 horsepower. The sports car's body is made of aerospace-grade lightweight carbon fiber and has the iconic side exhaust as well as 14-inch wide rear tires.
All of the proceeds from the sale of the Demon and Viper will go to the United Way. Dodge has been a longtime contributor to the annual campaigns.
"An avid collector could search a lifetime to try to put two vehicles of this pedigree together and never find it, it's that elusive," said Steve Beam, Head of Passenger Car Brands, Dodge//SRT, Chrysler and FIAT for FCA North America in a press release. "Pairing the last Dodge Challenger SRT Demon and the Dodge Viper production cars — two of American's most sought-after vehicles — under the roof of Barrett-Jackson gives someone the 'last' chance to own this unique piece of automotive history, and Dodge//SRT the opportunity to raise money to a cause close to our hearts."
More information on the 2018 Demon and 2017 Viper auction can be found at DodgeGarage.com.