March Awards Roundup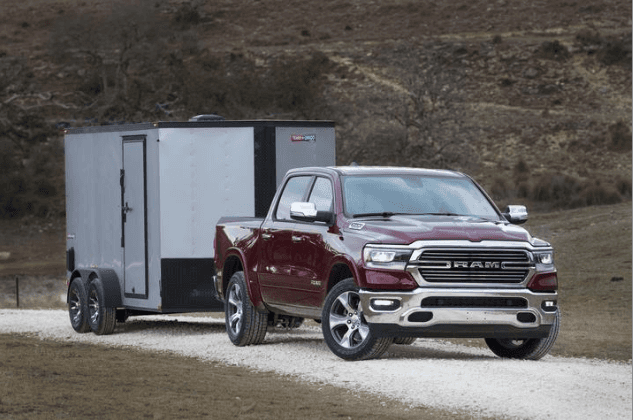 Another month, another handful of awards for Fiat Chrysler Automobiles. For the month of March, the 2019 Ram 1500 was given two awards — the Gold Hitch Award from Fast Lane Truck and the Truck of the Year from the Rocky Mountain Automotive Press Association.
Fast Lane Truck Gold Hitch Award
The Fast Lane Truck (TFLtruck) awarded the 2019 Ram 1500 the Gold Hitch Award for the light-duty pickup segment on March 26.
TFLtruck is a publication that is super popular for online video reviews and vehicle news. Their "TFL Ike Gauntlet" extreme towing test is a staple as it challenges the absolute maximum towing capability of a truck. This test was performed to determine the winner of the Gold Hitch Award and other features were rated as well. Trucks from the 2019 model year and those from previous models years that weren't significantly changed were eligible for the award.
Judges noted that the 2019 Ram 1500's new technology, ride and handling quality, exclusive air suspension and interior features pushed it over the edge to win.
"The 2019 Ram 1500 and it's 5.7-liter HEMI V-8 eTorque system came out on top when compared to the competition on TFLtruck's 'Ike Gauntlet' — world's toughest towing test," TFLtruck Managing Editor Andre Smirnov said. "All trucks pulled 9,100 pounds, and while the data we collected during our real-world testing demonstrated how close the competition really is, the new Ram 1500 stood out with available air suspension and technology features that made hooking up a trailer easier and the trailering experience more relaxed."
Rocky Mountain Automotive Press Association Truck of the Year
The Denver Auto Show kicked off with the Rocky Mountain Automotive Press (RMAP) announced the 2019 Ram 1500 a the Truck of the Year.
The RMAP's vehicle nominating committee narrowed it down to three trucks and took into account things like vehicle features, value, fuel economy and performance to determine the winner. This was the 13th year for the RMAP's Vehicle of the Year Awards and to be eligible, a vehicle must be all-new or significantly updated for the 2019 model year.
"This year, competition for the Truck of the Year with the Rocky Mountain Automotive Press was very intense and exciting with three very worthy trucks making the final vote," RMAP President Craig Conover said. "After a vote from all the members of RMAP, it was a clear choice for the new Ram 1500 to be awarded Truck fo the Year in the Denver Region."