PICK-UP OF THE YEAR: THE ALL-NEW 2020 JEEP GLADIATOR RUBICON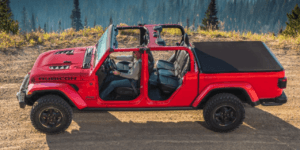 What a fantastic way to start the new year! The popular off-road automotive magazine, Four Wheeler has named the 2020 Jeep Gladiator Rubicon their Truck Of The Year. The annual award is given by the editors of the off-road enthusiast magazine, who singled out the 2020 Jeep Gladiator for its unmatched capability, awesome functionality, and rugged durability.
THE MOST UNIQUE FEATURES: "Our all-new Gladiator Rubicon is the world's only truck that delivers legendary Jeep 4×4 off-road capability, open-air freedom and authentic Jeep design," said Jim Morrison, Head of Jeep Brand. The all-new 2020 Jeep Gladiator is the perfect combination of pick-up truck and off-road machine, doubling the durability, utility, and versatility. This beauty was engineered from scratch to be the most formidable off-road midsize truck ever. 
TESTING GREATNESS: "After a week of testing in a variety of challenging environments, the Gladiator proved that it is all truck and all Jeep, which is a formidable combination."  said Four Wheeler Editor Ken Brubaker. Judges conducted a battery of tests over a variety of terrain that included pavement, gravel, dirt, rocks, sand, mud, and icy conditions. Loose-dirt hill climbs and water crossings were included in the battery of tests. The Rubicon's lighting equipment was even tested by sessions of night driving, to evaluate the utility of the lighting along rough terrain. Overall, the 2020 Jeep Gladiator Rubicon was put under strenuous conditions and passed the tests with flying colors. 
AWARD-WINNING CONFIGURATION: One thing that put Gladiator Rubicon over the top with judges was the Rubicon package, which includes Tru-Lok differential lockers, the Rock-Trac transfer case with 4:1 low range, front disconnecting stabilizer bar and full skid-plates. This innovative configuration puts the new 2020 Jeep Gladiator ahead of its class by leaps and bounds. Powering this state-of-the-art vehicle is the proven 3.6-liter Pentastar V6 engine. The all-new Jeep Gladiator is equipped with the latest tech features such as Apple CarPlay and Android Auto, plus advanced safety features like Blind-spot Monitoring and Rear Cross Path detection. 
Go ahead and take home a winner! The all-new 2020 Jeep Gladiator Rubicon is more than just the Truck of the Year. It's a perfect blend of pickup truck and off-roader that will give you versatility and capability for the years to come. Stop by Hebert's Town and Country of Shreveport and take a test-drive in the award-winning Jeep Gladiator. Experience what makes Jeep a winner!