Ram reboots EcoDiesel for 2020 1500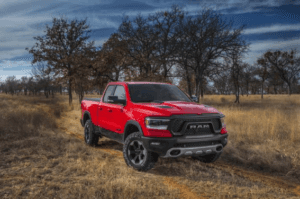 Ram is continuing their trend of excellence with the announcement of the 2020 Ram 1500 3.0-liter EcoDiesel V6. While absent from the 2019 Ram 1500 lineup, the beloved engine, complete with eight-speed automatic transmission, will be launching with the new 1500. 
Diesel engines have been extremely popular in both the Ram 2500 and 3500 heavy-duty trucks over the years, albeit a little on the pricier side. Recalibrated for 2020, and to fit the 1500, the 3.0-liter EcoDiesel V6 nets the Ram 1500 a whopping 260 horsepower and class-leading 480 lb.-ft. of torque. Tow much to handle? Ok, we're sorry about the towing pun, but you'll be pleased to hear that the 2020 Ram 1500 is ready to tow up to 12,560 pounds. 
The third-generation EcoDiesel engine is available on all models and configurations and, for the first time ever, on the Ram 1500 Rebel. Interior features remain comparable with the 2019 Ram 1500, providing top-of-the-line technology, durability and safety. Ram enthusiasts will drive with confidence knowing that the 2020 Ram 1500 still has nearly twice as much interior space as the competition. Subtle, yet practical for almost any lifestyle, the 2020 Ram 1500 is versatile enough to keep you from breaking a sweat. 
Whether you're towing your camping gear across the state or your belongings to a new one, the 2020 Ram 1500 is more than capable of getting the job done. Want to stay updated on all things Ram? Here at Hebert's Town and Country Chrysler Dodge Jeep Ram in Shreveport, we're dedicated to bringing you the best selection of Ram trucks possible. You can fill out our contact form and we'll keep you in the loop as we learn more about the 2020 Ram 1500 and, most importantly, when they hit our lot.