Spring Cleaning For Your Car!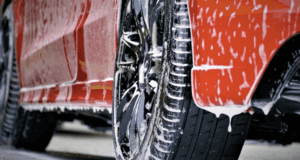 While the Coronavirus epidemic has changed things in a lot of ways for tens of millions of Americans, one thing that shouldn't change during this time is your commitment to car maintenance. It's springtime and between the bugs, pollen, rain, sap, mud, and everything else Mother Nature can throw at you between March and June, your car can take a real beating. If you don't keep on top of regular maintenance, your car's paint, rubber and chrome might even be damaged by acids in natural goop that winds up on your vehicle.

Seen below are Hebert's Town and Country's tips for Springtime Car Care. By following this list, you can keep your car running, looking and smelling nice for years and countless springtimes to come. And if your car is looking a little sadder than a wash and wax can fix, maybe it's time to trade up! Give us a call at Hebert's Town and Country in Shreveport today, or check out our big selection of new and used vehicles at our website right now.
SCRUB UP: With a lot of people home from work with a lot of time on your hands, now might be a great time to haul out the buckets and hose, get some soap, and give your car a spa day! Washing a car by hand is a fun time for the whole family that can get you outdoors in the sun doing something together. Break out your shorts and see how much fun washing a car can be.

DON'T FORGET THE WAX: When you hand-wash a car, the most important step to make your vehicle look great and keep it looking great is a thorough paste wax. In addition to making your vehicle shine like new, wax forms a protective barrier that both keeps gunk like bird poop, bug guts and sap from sticking and potentially harming the paint. It takes some time, but many of us have plenty of that right now. So wax on, wax off, Daniel-san. It's a great workout too!

FIND YOUR FILTER: While many of us make sure to keep our car's engine air and oil filters changed regularly, a lot of folks forget about a filter that determines the cleanliness of the air YOU breathe: your car's cabin air filter. Most new cars have one, usually located behind the glove compartment, and they can get very clogged in the springtime from all the pollen, dust, bugs and other contaminants. They're cheap and easy to change, with directions for changing the filters in most models available on Youtube. If you don't feel comfortable changing yours, though, no worries. Give us a call at Hebert's and we can change it for you for a nominal fee.

UNDER PRESSURE: When it comes to staying safe on the road, even today's most modern safety features won't do much good if you don't take care of your tires. Your tires are your car's connection with the road, and with temperature fluctuations in the spring, they can gradually lose pressure. Underinflated tires can wear unevenly or even fail quicker, so springtime is a great time to set a schedule for checking your tire pressure and topping them off if they've dropped below the manufacturer's recommendations. Set a repeating, once-a-month alert in your phone if you need a reminder. 

AIR IT OUT: The wintertime is long and cold, and between the dampness, eating in the car, and just general stuffiness, your car can really get musty in the wintertime. That's why one of the best things you can do for your car in the spring is to just roll the windows down on a warm, sunny day and let your car sit for a few hours. Doing so will let all those weird smells from the french fries you ate in the car back in February drift away. Just keep an eye out for sudden spring thunderstorms so your seats don't get wet!

By following these simple tips, you and your car can both fight off the onslaught of spring and stay in tip-top shape for years to come. And if your car just isn't setting your heart aflutter like springtime butterflies anymore, Hebert's Town and Country is here for you, with the best selection of new Chrysler, Dodge, Jeep and Ram vehicles, and the best selection of used cars around. Give us a call today, or check out our big selection online right now. Have a happy spring from Hebert's Town and Country.