Throw it Back to 1979 with this Dodge Tradesman Star Wars Tribute
The year was 1977. The world unprepared for a phenomenon– a phenomenon that would still captivate the world to this day. Star Wars Episode IV: A New Hope launched with runaway success and the mark it left on its fans is endearing and, at times, hilarious.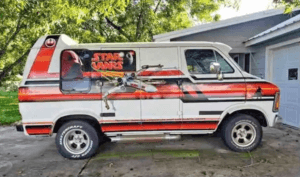 Now, the Dodge Tradesman isn't a particularly flattering van, at least by today's standards, but this fan's tribute to Star Wars has us scratching our heads. An X-Wing, Darth Vader's helmet, a resilient Jedi standing against a sandy backdrop, a weapon of mass destruction… we can't deny that this van is keying right into our nostalgia. The three-row van offers so much potential. Possibly a road-trip to Disneyland's new attraction "Star Wars: Galaxy's Edge"? Room for all of the family to take a trip to the movies and see "Star Wars Episode IX: The Rise of Skywalker" later this year? There's just so much room for activities.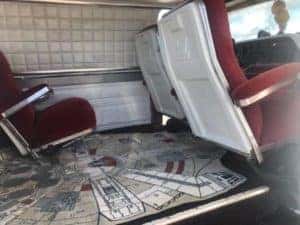 Admittedly, the deep orange and black pair together quite nicely and the custom paint-job is extremely well-done. The interior is as lavish as a Tradesman can be, kitted with burnt red seating and an homage to the Millennium Falcon's legendary design on the floorboards. You'll certainly best Han Solo's Kessel Run time of 12 parsecs in this hilarious fan tribute, but you might run into repairs before you can finish a game of holochess. 
We can't guarantee that this interstellar van hasn't been sold, but you can head to the Craigslist listing if you want to try your hand. Looking for a more modern van? The 2019 Dodge Grand Caravan is the ultimate family van. Seating for seven, stow n' go second-row seats, ample cargo space and Dodge performance all make owning a Grand Caravan easier than using the force– and, hey, we won't judge you tricking out your van in Star Wars decals. 
Find your new hope at Hebert's Town and Country Chrysler Dodge Jeep Ram in Shreveport! We'll help you find the ride you need with none of the nonsense. You can give us a call, fill out our contact form or use the map on the right to pay us a visit in person. We hope to see you soon!