Mopar Magic Car Club Trunk or Treat 2017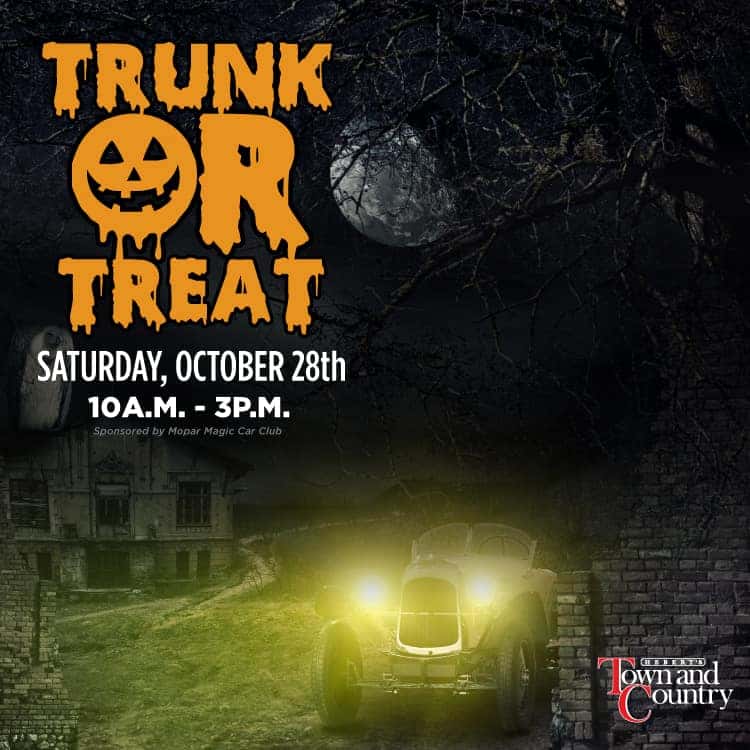 We love Halloween here at Hebert's Town & Country Chrysler Dodge Jeep Ram and what better way to celebrate the fun and spooky holiday than with a trunk or treat?! The Mopar Magic Car Club will be hosting its free annual Trunk or Treat event right here at our dealership from 10 a.m. to 3 p.m. Saturday, Oct. 28.
Bring the whole family and dress up in your favorite costumes as we hand out candy from our trunks.
In addition to candy and treats, there will be popcorn, hot dogs and hamburgers to eat. We will also have games and bounce houses for the little ones.
For the car enthusiasts like us, the Mopar Magic Car Club is going to have antique and vintage cars as well as hot rods on display. While the kids can run around and get candy, mom and dad can have fun too! The club encourages attendees to take check out the vehicles, say hi and ask any questions of the owners. Car people LOVE talking about the vehicles they've so painstakingly and lovingly restored.
Bring the kids – pets are welcome too! – and trunk or treat with us at Hebert's Town & Country Chrysler Dodge Jeep Ram in Shreveport, Louisiana!
Click on the widget to the right for directions, or send us a message and we'd love to answer any questions you may have about Trunk or Treat!
In need of a new car? We'll be open for business as well as fun Saturday. Check out our inventory here and let us know if anything catches your eye!