What to Do Before Selling Your Car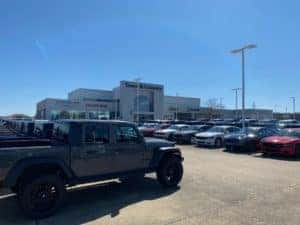 There are several articles explaining steps to take in order to purchase a new vehicle but at Hebert's Town and Country, we are here to help in all aspects of an automotive transaction. Selling your vehicle used to either mean trading it in or selling it yourself on a grassy street corner. Luckily there are several more options available now.
The best and easiest way to sell your vehicle is to sell it directly to us! We will purchase your vehicle outright, with no obligations for you to purchase a new vehicle from us. We handle all the paperwork and ensure you have a seamless selling experience while making sure you receive the best market offer possible.
If you're interested in one of our vehicles that we have at Hebert's Town and Country, you can trade-in with us for a great deal as well. We will take your vehicle dirty, damaged, and broken. If you don't want to mess with reconditioning your vehicle before getting rid of it, we will take it off your hands in a timely manner. The dent from 2013 or that scratch that your significant other put on the car? Don't worry about it, we'll handle it!
If you choose to sell it yourself before purchasing a vehicle from us, there are a few steps to take in order to get the most money and least amount of lookie-loo's wasting your time.
You'll want to take a full portfolio of photos to place into your ad and make sure you describe your vehicle thoroughly and accurately. This avoids potential issues for the buyer and seller. Plus, we prefer to be transparent and honest in all our business dealings.
You'll want to make sure your vehicle is in the best condition possible. Make sure to take it to our service center to diagnose any lights on the dashboard and give it a fresh service for the next owner. Make sure you're aware of how to correctly fill out the paperwork so the vehicle gets transferred out of your name and into the buyer's name quickly and correctly.
If you're ready to sell your vehicle immediately and get a fair price for it, click here to start the process of having Hebert's Town and Country purchase your vehicle!