Winterizing your Car: Tips and Tricks to fight the Cold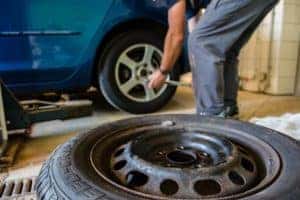 It's never too early to be thinking about approaching weather conditions and the durability of your car. Whether swapping out your tires for a new set or checking your heating and cooling systems, making sure that you're prepared for conditions ahead of time is typically your safest bet. After all, nobody wants to be stranded on a cold night thanks to something you could have prevented. 
For starters, gather a warm coat, sleeping bag or blanket, gloves and a first aid kit. This will function as your Survival Kit. Even a nice autumn day can turn frigid once the sun goes down. Let's say you have to change a tire, or you run out of gas far from any sign of civilization. Rather than panic, you've got your Survival Kit! Keeping food and water is also a smart decision. Basic rules of adventuring are to make sure you're prepared, no matter the size of the journey. 
Making the decision to replace your tires as winter creeps closer is generally dependant on where you live. That being said, winter tires will always deliver the best performance as the thermometer begins to sink. All-season tires can be a viable option, and will continue to provide your car with excellent traction during colder seasons, but to a lesser degree than the traction provided by winter tires. Be mindful of your tire pressure as summer begins turning to autumn. Cold weather tends to diminish the air in our tires and it's always smart to monitor your tires' pressure throughout the cold season. 
Be sure to keep your washer fluid topped off and think about installing winter windshield wipers. We may not see a whole lot of snow, but ice can be a force to be reckoned with. Winter windshield wipers utilize more rubber, preventing your wiper from freezing to your windshield. It's also worth noting that an ice-scraper should be tucked away in your car, just in case. 
We've still got warm weather ahead, but it's always smart to be looking forward when it comes to the longevity of your car and your safety. Looking for new tires and service on your ride? We've got an incredible team of factory-trained service technicians here at Hebert's Town and Country Chrysler Dodge Jeep Ram in Shreveport! You can give us a call, fill out our contact form or drop by our lot for a quick tune-up or an in-depth diagnosis on your ride. We hope to see you soon!