Electrified High-Five for Jeep's Upcoming Hybrids
Jeep is giving its customers the opportunity to plug into a future of electric capability that will add more to the on-road and off-road adventure. In true fashion, Jeep introduces hybrid innovation that doesn't compromise in new and upcoming Jeep models.
JEEP WRANGLER 4xe: The first innovative Jeep Wrangler plug-in hybrid, the new 2021 Wrangler 4xe, provides the trustworthy capability we've all come to expect from Jeep while providing available zero-emission power. The innovative 4xe propulsion system achieves 375 horsepower and 470 ft.-lb. of torque without the range anxiety! The Wrangler 4xe achieves approximately 50 mpg, emissions-free, and has a travel range of 400 miles on a single tank of fuel. The 16-kWh lithium-ion battery pack, regenerative brake booster, and eight-speed automatic transmission work together to send power and torque to each wheel, maximizing capability. Plus, you will still experience the same cozy interior and convenient tech-savvy features as offered in the gasoline-powered 2021 Wrangler. 
JEEP GLADIATOR HYBRID: It's not hard to imagine a 4xe hybrid version of the Jeep Gladiator since it's similar to the Wrangler in some design features and standard powertrains that both offer. According to Motor1.com, Jeep Global President Christian Meunier allegedly confirmed that an electrified Gladiator was in the works. Jeep could possibly repeat the Wrangler 4xe 2.0-liter turbocharged engine with two electric motor configurations for the future Gladiator hybrid.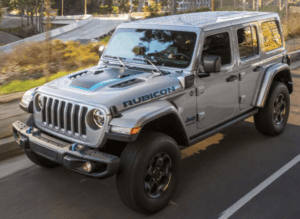 JEEP GRAND WAGONEER HYBRID: Word around the Jeep campfire is that a gasoline-electric hybrid 4xe version of the Jeep Grand Wagoneer is in the works as well. What will power a possible Grand Wagoneer hybrid model is uncertain. Again, it's possible Jeep will take its cues from the Wrangler 4xe's 375-hp setup. That said, the brand might go for a larger V-6 gas engine with multiple electric motors in the Wagoneer hybrid so as to match the 392-hp rating of the Grand Wagoneer's standard 5.7-liter V-8 engine.
Whatever the future may hold, Jeep has always had the customers' demands and desires in mind. We at Hebert's Town and Country Chrysler Dodge Jeep Ram in Shreveport, LA believe in the same philosophy when it comes to customer service. Therefore you won't even have to come to our lot for the buying process thanks to our Online Shopping Program. This wonderful online tool will save you time when you explore payment options and financing without leaving the comfort of your home.